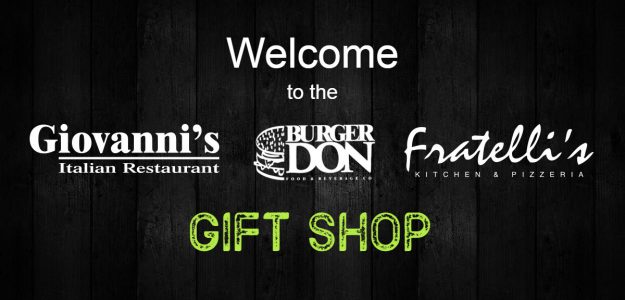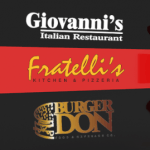 Giovanni's GiftShop
522 Great Northern Road,

SAULT STE MARIE,

Ontario,

Canada

No ratings found yet!
Whole Chicken
Approx 3-4 lbs per chicken, and frozen

Raw Frozen fillet of Local Whitefish

Pickerel Fillet (8-10oz)
Comes frozen.

Beef Gravy mix makes 4 liters of gravy
Perfect for Poutine

4 Pack Fresh Black Angus New York Strip Steaks
Approx 12 oz each, Hand Cut, Vac sealed

4 Pack Fresh AAA Black Angus Boneless Ribeye Steaks
Approx 12 oz each, Hand Cut, Vac sealed

Newly Added! BBQ Grill Kit
Includes:
4 Fresh 10-12 oz AAA Black Angus Ribeyes (hand Cut)
4 Burger Patties
6 Burger Buns
12 Northern Superior Lager Cans

*Must Be 19 years or older

2 English cucumbers and 10 Tomatoes

8oz Individually frozen and vac sealed frozen

Package size 4.5kg bag individually frozen green beans

Vegetable Medley
Broccoli, Cauliflower, Carrots. Approx 2kg per bag, comes frozen

Seasoned Porketta Roast
Comes vac sealed, approx 2.5Lbs. Cooking Instructions below.

Miss Vickie's Sea Salt Malt and Vinegar Chips
200 gram bag

Miss Vickie's Original Chips
200 gram bag

Fratelli's Par cooked then frozen Medium (16″) pepperoni pizza.

Total Weight 1kg

A family favorite, Giovanni's Potato Gnocchi is the ideal addition to whatever you're serving.

Price is per meatball. Adjust to desired quantity. Packaged frozen

Savor the hearty goodness of a delicious lean ground beef and pork meatball. With this traditional family recipe, Giovanni's has perfected the Meatball.

24 oz Meat Sauce Container, Our Meat Sauce consists of sauce made from tomatoes, minced beef, garlic, wine and herbs, In this sense the sauce is actually more similar to Neapolitan ragù from the south of Italy.

24 oz Marinara Sauce Container, Marinara Sauce is a simple tomato sauce with very few ingredients. Generally tomatoes, aromatics (onion/garlic) and some seasonings.

Giovanni's home made chicken broth, pastina and chicken. 24oz

Simply heat and serve!

2kg of frozen french fries

24 oz Pizza Sauce Container

Fratelli's Pepperoni Pizza Kit
Make dinner fun with the kids tonight with this personal pizza kit!
Kit includes 4 pizza dough's, 4 pizza sauces, 4 mozzarella cheeses and 4 pepperoni portions.
Make your own pizza's or panzerotti's tonight!

Lets support those in need!
Donate a Large tray of Penne Pasta with meat sauce that feeds 20-25 people! That means you can feed each person for $2.50! Order today
Pasta is served hot next day to the charity of you're choosing! Please add the charity you want it to go to in the notes field during checkout, and let us know if you would like us to feature the donation from yourself or from your business on our social media pages.

Together we will beat Covid-19!

Donate 1 Large pizza to our amazing public servants who are working tirelessly to keep us safe!
Large Pepperoni Pizza

These pizzas will be donated evenly next-day to:

Our hospital staff

Our Police Station

Our Paramedics

Our Fire Fighters

Cookie Dough Pucks
Pre portioned 42gram raw cookie dough pucks. Comes in two flavors below. Price per piece.

Macadamia Nut Cookie Dough Puck

Cookie Dough Pucks
Pre portioned 42gram raw cookie dough pucks. Comes in two flavors below. Price per piece.

Chocolate Chunk Cookie Dough Puck

5 Lb Chicken Wings
Approx 45 wings per bag, Comes raw and individually frozen , mixed drums and flats.

4Kg Box, individually quick frozen boneless skinless 4oz size chicken breasts

Plain Butter tarts 48 count per box (frozen)

Burbank Potatoes 10lb bag

BREADED MEAT RAVIOLI
COOKING INSTRUCTIONS

Deep fry: Caution: ice crystals on frozen foods can cause spattering when added to hot oil. Add product carefully. Tips for frying with oil: always preheat oil uncovered. If oil spatters, cover immediately and reduce heat. When spattering stops, remove cover and return to cooking temperature. Be careful not to spatter or spill oil onto hot burner of range. 1. Preheat cooking oil in electric deep fryer to 350 degrees. Fill deep fryer not more than half full of oil. 2. Fill fryer basket not more than half full of frozen Ravioli. Carefully lower basket into hot oil. 3. Fry 3-5 minutes. Cook to a light golden color. 4. Drain on paper towels.

Pan fry: Heat 3/4 inch vegetable oil in a large saucepan over medium heat until a deep-fry thermometer registers 350 degrees F. Working in batches, fry the product, turning, until golden brown on all sides, about 4 to 6 minutes or until warm in center. Remove with a slotted spoon and drain on paper towels.

Serve breaded ravioli with a side of warm tomato sauce.

Long and thin, soft and delicious, the baguette is the measuring stick for all things bread. Our original baguette is made with unbleached, untreated, enriched wheat flour, water, sea salt, yeast and malted barley. Price is per Baguette, Individually packed frozen

Home Baking kit

This kit includes Flour and yeast!
20KG Flour and 2LB Dry Yeast

Full Rack of Baby Back Ribs
Comes raw, Individually frozen, between 24-28oz's each rack (approx 14-16 bones)

Assorted Meat Box

Box includes:
Ground Beef 2lb (2 x 1LB)
Pork Chop Bone In 3/4 inch thick 3lb (8 x 6oz)
Bacon 3lb (3 x 1lb)
Chicken Breast Supreme 2lb ( 4 x 8oz)
Everything Comes Frozen and individually Vac sealed

San Pellegrino Aranciata 24 cans per case

Whole Boneless Ribeye Roast (Prime Rib)
Comes whole, raw, Individually frozen, between 15 – 18 lbs. AAA or better grade guaranteed! Impress your family with the best prime rib dinner ever!

750ml Giovanni's VQA Chardonnay Wine
Must be 19 years of age.
Must order with food.

750ml Giovanni's VQA Cabernet Wine
Must be 19 years of age.
Must order with food.

My favourite grape varietal and a varietal that is truly Ontario. The white label Cabernet Franc is approachable and balanced with complexity and a true representation of the varietal. Raspberry, floral and toasty aromas and flavours with a medium-full palate and long finish. Versatile for food or to be enjoyed on its own.

Must be 19 years of age.
Must order with food.

6 Pack Tall Boy Northern Superior Lager
Must be 19 years of age.

Must be ordered with food.

6 Pack Tall Boy Northern Superior 55
Must be 19 years of age.

5.5LB's Ground Beef comes frozen

4kg Box of Breaded Chicken Fingers Approx 70-80 pieces per case
Seasoned breaded chicken tenders

4 Pack of Burger Patties
(4) 4oz burger patties vac sealed

2LB Raw Frozen Jumbo Shrimp
Bulk bag of approx 36 individually frozen peeled and de-veined jumbo shrimp. Shrimp size 16 – 20 (means 16 – 20 per lb)

2lb Italian Sausage Hot
Comes frozen and vac sealed

2lb Italian Sausage Mild
Comes frozen and vac sealed

2LB Dry Active Bakers Yeast
Bulk dry yeast for baking, bread or pizza making.

20kg Bag Strong Bakers Flour

2.5kg Saputo Shredded Mozzarella Pizza Cheese (1) Bag

1LB Ground Beef
Comes vac sealed in 1lb bags

1kg Vegan / Dairy Free Shredded Cheese

Hamburger Buns
6 brioche hamburger buns, individually frozen, pre cut in half.

(1) Head of Romaine Lettuce

10 IN GLUTEN FREE PARBAKED PIZZA CRUST
A PAR BAKED GLUTEN FREE PIZZA CRUST MADE WITH RICE FLOUR, TAPIOCA AND POTATO STARCHES

One 8oz New York Strip Loin Steak. Comes vac sealed in individual portions.